Theme issues
1. Air- and Spaceborne Traffic Monitoring (ISPRS Journal)
2. Remote Sensing Data Fusion (PE&RS Journal)
---
Call for Papers
ISPRS Journal of Photogrammetry and Remote Sensing - Theme Issue
Air- and Spaceborne Traffic Monitoring
Guest Editors:
Stefan Hinz
(Remote Sensing Technology, Technische Universitaet Muenchen, Germany)
Richard Bamler
(Remote Sensing Technology Institute, German Aerospace Center (DLR) Germany)
Uwe Stilla
(Photogrammetry and Remote Sensing, Technische Universität München, Germany)
Planned publication date: Winter, 2006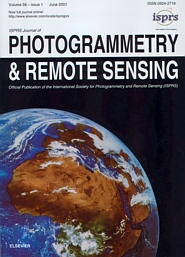 With the recent advances in sensor technology, the automatic detection, characterization and monitoring of traffic using air-borne and space-borne data has become an emerging field of research. Today, a variety of approaches has been developed showing great potential to complement existing ground-based methods for traffic parameter determination. Approaches for vehicle detection and monitoring include not only video cameras but nearly the whole range of available sensors such as optical aerial and satellite sensors, infrared cameras, SAR systems, and airborne LIDAR.
You are encouraged to contribute to this special issue by submitting your latest research and development results in the areas of vehicle detection and traffic monitoring from air-borne or space-borne data, more specifically:
vehicle extraction from various data such as optical images, SAR or LIDAR
vehicle tracking and velocity estimation in image sequences
vehicle velocity estimation using InSAR, STAP or related methods
micro- and macro-scale traffic parameter determination
integration of ancillary data or a-priori knowledge into vehicle extraction and tracking approaches (GIS data, road extraction, etc.)
concepts, design and performance evaluation of traffic monitoring systems
Papers must be original contributions, not previously published or submitted to other journals. Papers published or submitted for publication in conference proceedings may be considered provided that they are considerably extended and improved. Substantive research and relevant-for-practice papers will be preferred. Papers must follow the instructions for authors described at http://www.itc.nl/isprsjournal.
Please submit the full manuscript to http://ees.elsevier.com/photo by March 12, 2006.
---
Call for Papers
Photogrammetric Engineering & Remote Sensing (PE&RS)
Special Issue on Remote Sensing Data Fusion
Guest Editors:
Jie Shan
(School of Civil Engineering, Purdue University, USA)
Uwe Stilla
(Photogrammetry and Remote Sensing, Technische Universität München, Germany)
Planned publication date: February 2008
This special issue of Photogrammetric Engineering & Remote Sensing (PE&RS) will focus on recent developments in fusion theory and methodology on aerial and space remote sensing data. Submissions may address, but are not limited to the following topics:
Novel fusion theories for remote sensing data
Multispectral and hyperspectral image fusion
Fusion of optical, LIDAR, RADAR, and/or GIS data
Registration, resampling, resolution and transform in data fusion
Data fusion at feature, object, and decision levels
Performance and quality of fusion algorithms
Applications of fusion technique in feature extraction, object recognition, classification, and change detection
This special issue intends to include original and influential contributions in this topic. All submissions will be peer-reviewed in line with PE&RS policy. Because of the page limit of each PE&RS issue, not all submissions recommended for acceptance by the review panel may be included in the special issue. Under this circumstance, the editors will select the most relevant ones for inclusions in the special issue at their own discretion. Other accepted submissions will be recommended to PE&RS for publications in regular issues.
Authors must prepare the manuscripts according to the PE&RS Instruction to Authors, published in each PE&RS issue and also available on the ASPRS web site at
http://www.asprs.org/society/committees/jpc/jpc_instr.html
Please submit the manuscript in PDF format electronically to both editors
by December 29, 2006.